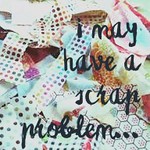 When I made my Christmas Goose quilt I had a huge stack of HST's made from the trimmings.
I'd hoped to turn them into a quilt top in February, but then my sewing machine went in for repairs and I was caught up in making the Remixed circus tent king sized quilt top. Over the last couple weeks I've been sewing in little chunks of time as often as I can squeeze it in during these busy spring days.
Stitching, stitching, stitching!
Always get a kick out of seeing the pieces stack up behind the machine!
Soon I had lots of these cuties!
Up on the design wall they went. Really enjoying the pops of aqua in there!
Next came sewing rows and adding setting triangles. As I assembled each row I just pinned it vertically on the design wall. I'm short so it was simply easier to do it this way (I didn't have to get the step ladder out) although it looks odd in the photo.
Hmmm, something is not quite right here.
One of these rows is not like the others!!
Yep, time to pull out the seam ripper..... ; )
Hope your sewing time is seam ripper free!!
Staci