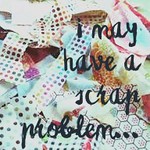 When I made my Christmas Goose quilt (HERE) I made up over 300 bonus HST's with those corners of the flying geese that would normally end up in the trash. I must admit to being rather giddy about all those HST's!
16 Jan -- Geese for Christmas Goose Quilt with bonus HST's.

I've set a goal for February to turn those HST's into a quilt top.
My first step was trimming. I bought the 3 inch finished Bloc Loc HST ruler. I kinda struggled with it a bit on the first couple HST's because it was slipping. Suddenly I remembered I had these little gems and stuck a couple of the small ones on either side of the channel. It was just enough to keep the ruler from sliding but not so much that the channel couldn't lock over the seam allowance. I love these little things!
Trimmed! Such a beautiful sight! I'm not certain how many I have, but it seems to be a bit over 330.
I always love the cotton spaghetti that's left from a marathon trimming session!
Time to start sewing these cuties together!
Hope you are having a happy scrappy day!