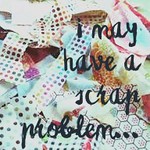 One of the problems with a scrap project sometimes is just trying to decide when to stop.
The scrappy log cabin blocks went up on the wall so I could get an idea of just what I had and what I still needed to make. One reason I really like this furrows layout is that it looks great as a rectangle. I could finish that top row and make another row and call it all good! I was sure I'd found my answer. Well, for a few hours. . . Until I suddenly remembered my last log cabin quilt was arranged in this layout. (You can see it HERE)
Okay, time to rearrange those blocks! I tried this layout with the white in the center as well, although I forgot to take a picture. The black in the center was more appealing, so this is it, the final layout! Well, it will be as soon as there are four more blocks.
And magically, here they are!
Must be time to make a quilt top!! It's been scrap heaven the last couple days!