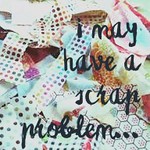 My goal for the month of June was sorting out the black and white scraps. Both boxes of scraps were overflowing. Wow! It was more work than I expected! There was an awful lot of fabric crammed into those two boxes.
As I pressed each scrap I sorted them into piles by size. I made piles for under 5 inches, charm squares, short and long strips under 2 inches wide, short and long strips between 2 and 4 inches wide, and everything larger. While I was working I decided to pull out the scraps with a white background and black designs. I'm not really sure this was a good move because now I have 3 boxes instead of 2!
Some of these scraps are destined to become a curvy log cabin quilt. While I was pressing and sorting I separated out all the strips that are the correct size. I haven't had a chance to actually make any blocks yet, but I am looking forward to some scrappy play time soon.
Although I didn't actually get to the point of sewing, the boxes actually close now.
I'm calling June a WIN! LOL
Happy Scrappy, Quilting Friends!
Previous Post About These Scraps: