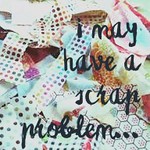 Well, back in April I didn't meet my Scrap Challenge goal. In fact, other than picking up these over flowing boxes of scraps and moving them around the room over and over the scraps were untouched. After 60 additional days the scrap piles in those boxes are even a bit higher!
May was so nuts I didn't even try to touch my scraps, but now it's JUNE, and by the end of June I will have those black and white scraps sorted, pressed, and ready to use!! I am determined, my Netflix queue is full AND I have a new iron!
Are you working on a scrap problem?
How is it going for you?
Happy Scrapping!
Staci
Previous post about the black and white scraps
HERE.