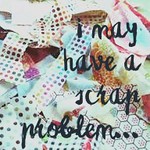 While considering all the scrap quilts I'd love to make the Curvy Log Cabin has risen to the top of the list! This ruler hopped into my shopping cart a few months ago and I am so eager to give it a try!
There are several different layout ideas and I've chosen to make a big spot quilt. Four 8-inch blocks are sewn together to make a 16 inch square block. You can see how the spot is formed in the diagram on the ruler.
Not certain what my exact color scheme will be for this quilt, so I've decided to keep it simple and begin with BLACK and WHITE. In April I'll get these two boxes of scraps pressed & sorted and start creating some SPOT blocks!
April will also see more Low Volume Scrappy Squares used as Leaders and Enders. Hopefully a little quilt top will come together pretty soon!
That's my April Scrap Conquering Plan!
Happy Scrappy Quilting!
Staci
Linking up with Sarah for I May Have A Scrap Problem.