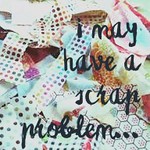 Last week I read Sarah Craig's blog post (
HERE
) about her scrap problem and the linky party support group she's starting, and I knew this was the kick in the britches I needed to get going with my own scrap problems. About 5:30 this morning I was reading over Sarah's blog post again and considering how to best tackle my own mess when it occurred to me a big part of my problem right now is location. My scrap boxes are shoved in a small dark closet. Going in that closet is so depressing I've been known to cut into stash fabric for a little piece rather than get in that closet! Ridiculous!!
5:45 AM, still in my jammies and not really awake, I hopped up from my desk chair and got busy. This house has an extra bedroom we use for storage. Hubby put up shelves on one wall. I pulled everything off those shelves and moved it into the closet and put all my scrap bins and sewing things on the shelves. In about 45 minutes I made my quilting life easier! Here's a photo of the shelves after I was finished. I wish I'd have taken a photo of the dark little closet before I started, but remember, I wasn't really awake. I never thought of it!
Last year with the very best of intentions I worked on trying to get the scrap situation under control. I sorted scraps by color and vaguely by shape and size, but I only got through about half the rainbow before I gave up in despair.
Cutting things up Amanda Nyberg or Bonnie Hunter style was my intention, but when it came time to pull out the rotary cutter I made this AWESOME scrap quilt instead.
'Cause sewing is more fun than scrap sorting, am I right??
Spicy is back from the quilter and is next up in the queue for binding!
Frequently I think I should get back to the scrap mess, but then my heart fills with dread!
Seriously, just look at this...
and this...
and these.
Let's not forget these, too!
That big one, oh it is the worst one!
Scraps have been pitched into that box for about 6 months now.
No sorting of any kind, just a big jumble.
Boxes and boxes of scraps. All of it needs to be sorted, pressed & cut into usable shapes.
Why haven't I done it? Time! It takes up valuable time when I could be sewing thing! I could be making more quilts.... and creating more scraps...which would, of course, make this mess even bigger.
Time to get it under control!
What's my first goal to help me take control?
Since I've already moved all my boxes to a new location with easier visibility and access, I think the first step will be to sort out that huge box. The scraps will be sorted, pressed, and placed the appropriate color box.
If you don't hear from me soon, look for me under a big ole pile of scraps, okay?
Scrappily yours,
Staci
Linking up with
Sarah at Confessions of a Fabric Addict